Februarys focus
everything Truffle
Cheese-Yogurt-Making for many years has served the dairy industry with high quality truffles sourced from northern Italy. We are now able to offer the same quality at competitive prices we have a small but growing range of products available with new and interesting additions always being added.
Olive oil with black truffle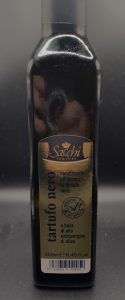 Extra virgin olive oil with Black truffle flavouring, sourced from northern Italy this delicious olive oil has proven popular with many chefs over the years and we are proud to offer it to you. this month we focus on using  it in a delightful mac & cheese just elevating this dish to a new hights. leading itself to so much more salad dressing to condiments & marinades the list goes on and on.
Recipe ideas:
3 tablespoons butter

2 garlic cloves, grated

3 tablespoons flour

355ml of milk

355 double cram

57g gorgonzola cheese, crumbled

57g goat cheese, crumbled

227g Fontina cheese, grated

113g parmesan cheese, grated

455g of pasta (I used cavatappi)

2–3 teaspoons truffle oil, or to taste

96g Panko breadcrumbs

2 tablespoons chopped parsley
Bring a large pot of salted water to the boil & preheat the oven to 190c gas mark 5, butter a 23 x 33cm baking dish.

Mix the milk and cream and warm to body temp.

Melt the butter in a large saucepan, Grate the garlic and cook for 30 seconds, Add the flour and cook until lightly golden , Wisk in the milk cream mix and bring to a simmer , whisking frequently over a medium-low heat until thickened.

Cook the pasta for 6 minutes (it will be very el dente) Drain well.

Add the cheeses to the sauce and whisk until melted & combined, Add the truffle oil till desired flavour is achieved.

Toss the pasta through the sauce and transfer to the buttered baking dish.

Top the dish with the panko breadcrumbs.

Bake the dish for 20-25 minutes until the top is golden and the cheese is bubbling.

Allow to cool slightly and drizzle with more truffle oil and garnish with chopped parsley.

Serve warm.
Olive oil with white truffle 
Recipe idea:
100g Fresh Basil.

50g Parsley.

50g Pine nuts.

50g Pecorino or Parmesan cheese grated.

2 Garlic cloves

3 tbsp Olive oil

2 tbsp White truffle oil

2 tbsp Lemon juice

1/2 tsp Sea salt

1/4 tsp White pepper
Toast the pine nuts in a heavy based frying pan till golden and fragrant.

Place the basil, parsley and pine nuts in to a food processor and pulse serval times.

Add the garlic, cheese and lemon juice pulse serval more times.

Scrape down the sides and slowly add the oil while the food processor is running.

Season to taste with the salt and pepper.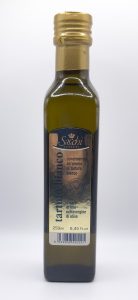 Extra virgin olive oil with white truffle, A slightly softer flavour then its black truffle cousin this month we have focused on pairing it with fresh herbs in a delightful pesto tossed through pasta or changing up a salmon fillet. White truffle combined with Italian olive oil is a great addition to any kitchen commercial or domestic as it leads itself to so many dishes.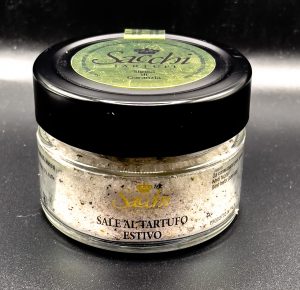 Truffle salt, This often over looked seasoning pairing is a staple in my own kitchen a great way to finish off a steak, fish & chicken quickly and easily with little to no fuss. this month however we have paired this seasoning along with truffle oil and parmesan cheese to elevate the humble fry to a higher level on there own or as a larger part of a meal this is one of our favourite ways to dress fries even a light sprinkle of just the salt will add a new dimension.
1kg of Maris piper or King Edward potatoes.

Vegetable oil for frying

truffle salt

truffle oil

2 tbsp of grated parmesan
Line two large baking sheets with paper towels.

Cut the potatoes in to 1cm thick batons and place in a bowl of cold water and allow to soak for 2 hrs to remove the starch this will help give you crispy fries.

Spread the potatoes equally over the two trays and pat dry.

Attach a thermometer (suitable for frying) to the side of a heavy bottomed pan making sure not to touch the bottom, heat the oil to 140c.

In small batches fry the french fries for 6 mins per batch until a golden straw colour. drain well on kitchen roll.

Increase the heat to 180c and fry again in small batches till lightly golden an crispy drain on to kitchen paper.

In a bowl add the fries a good pinch of salt a drizzle of oil and the cheese and toss to coat evenly.
Recipe idea.
700ml Double cream.

3 Cloves of garlic minced.

250ml dry white wine.

1 tsp of finely chopped thyme.

3 tbsp of grated parmesan.

1 to 2 tbsp of winter black truffle sauce.
Add butter to a heavy based pan over a medium heat, add the shallot & garlic and soften.

Add the wine & thyme reduce to 1/3.

Add the truffle sauce to taste allow to warm through then add the cream and allow to thicken.

Add the parmesan to taste and allow to combine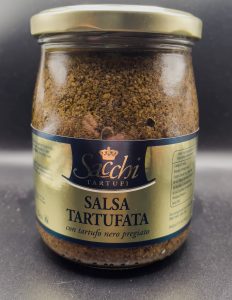 Winter black truffle sauce. this highly versatile sauce is a combination of winter black's with there rich & complex flavour, mushrooms & pistachio's this sauce is particularly popular with chefs, for its price point, flavour and range of uses from dressing to sauces. This month we have focused on its use in a rich and decadent truffle cream sauce this pairs well with pasta's just perfect for the cold winter evenings .
Chopped Summer black truffle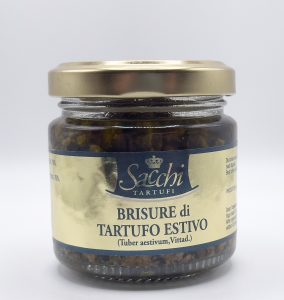 Chopped summer black truffle the deep earthy aroma of these truffles with hints of  hazelnuts, chocolate & vanilla pair wonderfully in so many dishes this month however we took the simple elegant path of truffle butter. Personally a knob of truffle butter slowly melting over a steak is pure, simple & an elegant way of highlighting the flavours present in a great cut of meat.
Recipe idea
230g Unsalted butter.

20g Chopped truffle.

Sea salt to taste
Allow butter to come to room temperature in a bowl.

Add the truffle and with a fork mash together adding the salt to taste when fully combined.

Allow to sit at room temp to allow the flavours to combine.

place on to a sheet of cling film and wrap twisting to form a log.

Place in the fridge to firm up and will keep for 7 days.
Sliced Bianchetto truffle 
Recipe idea.
French style scrambled eggs
30g sliced Bianchetto truffle.

8 Large eggs.

2 tbsp Unsalted butter (room temp).

4 tbsp Unsalted butter (chilled).

2 tbsp Double cream.

Salt & White pepper to taste
In a double boiler bring the water to a simmer and coat the top bowl with the room temp butter.

Mix the eggs together in a bowl adding a pinch of salt & pepper.

Transfer the eggs to the double boiler and stir with a wooden spoon scraping down the sides not allowing the eggs to stick.

When almost done add the cream and the truffle and cook for a further 30 seconds then remove the bowl from the heat.

Add the chilled butter to halt the cooking and to enrich the texture and taste plate and serve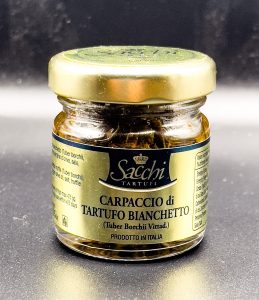 Bianchetto truffle, the often over looked cousin too the more celebrated white truffle. Smaller and less pungent but by no means any less capable of elevating a dish with its distinct flavour and for that reason we paired it with the indulgent French style scrambled eggs. In our mind here at the Cheese-Yogurt-Making office quite a simple way to pep up your brunch game.